Date published 30th September 2020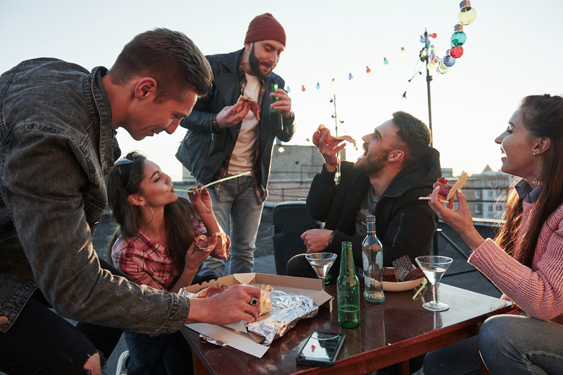 When it comes to places to eat, you're spoilt for choice in Southampton. Meat eaters, vegans, gluten free, gluten full – you're all catered for!
Whether you fancy hearty breakfasts or lazy lunches, fine dining and bountiful buffets – there's an abundance of choice for you in Southampton. The city has some of the best tea rooms, artisan cafes, and restaurants to fulfil all your hunger needs.
While there are a variety of national brands at Westquay that you may already be familiar with, we would like to encourage you to check out some of Southampton's most loved independent eateries. Unleash your inner 'foodie' and immerse yourself in Southampton's local food scene!
7 Bone
7 Bone is located in the centre of Portswood – an area very popular amongst our students. This family-run restaurant specialises in what they refer to as 'American comfort food classics'. Diners can expect homemade burgers, mouth-watering macaroni cheese, and thick milkshakes – all at a very reasonable price.
Location: 110-112 Portswood Rd, Portswood, Southampton SO17 2FW
Website: 7bone.co.uk/southampton
Lakaz Maman
Lakaz Maman, translating from Mauritian Creole as 'mum's house', is owned and run by BBC's MasterChef 2012 winner, Shelina Permalloo. This restaurant serves authentic recipes with a modern Mauritian twist. Lakaz Maman lives up to its name with a friendly and relaxed atmosphere – a comfortable place to enjoy amazing food.
Location: 22 Bedford Pl, Southampton SO15 2DB
Website: lakazmaman.com
Mango Thai Tapas
Doing exactly what it says on the tin – Thai food, tapas-style! Excellent dishes for sharing and for trying something new. Mango has three restaurants in Southampton – City Centre, Portswood and Ocean Village. For tasty Thai treats, Mango is a must-visit – but if you pop into the Ocean Village restaurant on a Thursday, Friday or Saturday night, you can hear some great live music, too!
Locations:
180, 182 Above Bar St, Southampton SO14 7DW
27 Portswood Rd, Southampton SO17 2ES
5 Canute Rd, Southampton SO14 3FH
Website: mangothai.co.uk
Piecaramba
"If you love pies you will love this place – pietastic."
Piecaramba is a massive hit with our students! The owners, Rob and Phil, have an amazing menu with lots of variety – in their bid to 'reinvent pie and mash'. A popular choice is 'The Notorious P.I.G.' – roasted pulled pork in sticky BBQ sauce with sautéed Cajun potatoes. There is a big selection of veggie and vegan options, as well as 'The Piescraper' food challenge for £19.95.
Diners have also commented on a great ambience with quirky décor, making Piecaramba a unique dining experience.
Location: 30A Carlton Pl, Southampton SO15 2DX
Website: piecaramba.co.uk
5 Rivers Sports Bar
Rivers is a family-owned sports bar in the heart of Southampton. East meets West as they bring a fusion of tandoori pub food to a bar environment. On top of some amazing Indian dishes, Rivers broadcast live sports, with pool tables, a games room, a basement bar and a beer garden, perfect for when the sun is shining!
Location: 5 Rivers Sports Bar, 30 Bevois Valley Road, Southampton, Hampshire, SO14 0JR
Website: 5rivers.pub
Sakura
If authentic Japanese cuisine is your thing, look no further than Sakura. They offer delicious freshly-prepared sushi and sashimi, as well as noodles and rice dishes, and everything else you'd expect. If you fancy sampling a bit of everything, try one of the teishoku sets – they're very filling, but very tasty!
Location: 20 Bedford Place, Southampton SO15 2DB
Westquay
If you want to make a spontaneous decision on where to eat, Westquay is a relatively new dining and cinema development next to the Westquay shopping centre. Here you will find a whole host of eateries, from desserts diners and Mexican tapas, to all-you-can-eat. With such a variety of cuisines and price ranges to choose from, there's bound to be something for everyone!
Location: Harbour Parade, Southampton SO15 1QF
Website: west-quay.co.uk/dine
We hope you enjoy the recommendations above, and enjoy the Southampton food scene. There really is a great selection of restaurants available to you – big and loud or small and intimate – the choice is yours. Discover more options – and, if you do go, be sure to let us know what they're like!