Why choose us?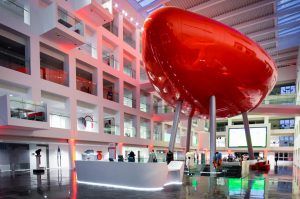 At Solent, our international student population spans across more than 100 countries in six continents – giving our campus and classrooms a diverse, multicultural feel. Outside of the classroom, you will be joining the 30,000 students who already call Southampton home. Our campus and six halls of residence can all be found in the heart of the city, so you'll never be far from the things that make this one of the UK's most vibrant student communities.
With over £3 billion invested in developing Southampton city centre since 2012, Southampton offers all the charm and excitement of a bustling waterfront city, with so much for students to explore and experience. But it's not just the vibrancy of the city that attracts students to Solent – we offer excellent academic and industrial support and experience.
Strong industry connections
Our departments have strong connections and business links – both nationally and internationally – while our mentoring programme can help you to match with local industry specialists. You will also have the opportunity to develop your professional confidence and industry awareness through our mentoring programme.
Supporting you in Southampton
Your experience as a student at Solent matters to us – that's why we're always here to help. Offering all kinds of support during your time here, we can advise and support on financial, academic, spiritual queries and other concerns.
Support that lasts
Our international alumni network and employment and enterprise services are there to ensure that you feel supported long after you've graduated. We provide support with job hunting, career advice, CV workshops, and even work with you to improve your networking skills and LinkedIn presence.
On top of this, we also offer training, mentoring schemes and financial support for student business start-ups!
Knowledge at your fingertips
Accompanying our modern campus, our contemporary libraries are home to a large range of online and offline resources, our award-winning support and services team, and hundreds of bookable study spaces. We also ensure that our online learning environment has all the materials, study guides and support you could possibly need at your fingertips.

Diversity
Warm, welcoming, friendly and diverse. That's what Solent is. Students of all ages and nationalities bring a range of fresh perspectives to our campus. Whether you're coming from overseas or returning to university as a mature student, we have extensive experience in providing the dedicated support and guidance you could possibly need; from visa and language support to brush up on your academic skills – we can guide you.
Everything we do at Solent is focused on you – your learning, your life, your career. We offer all the skills, knowledge and practical experience you'll need – all of the things employers are looking for. So when you graduate, you'll already feel like a professional.
We will always provide the best academic and guidance support for our students, and we've seen first-hand how grateful our students are for that level of support.
It is part of the reason why we were shortlisted for the University of the Year 2019 (Times Higher Education Awards 2019).
Our students benefit from a fantastic social scene at Solent, too. With a  Students' Union that is complemented by fitness facilities, a student-run cinema and a range of other leisure venues, there will always be plenty going on. Find out more about life on campus here.