Date published 17th June 2020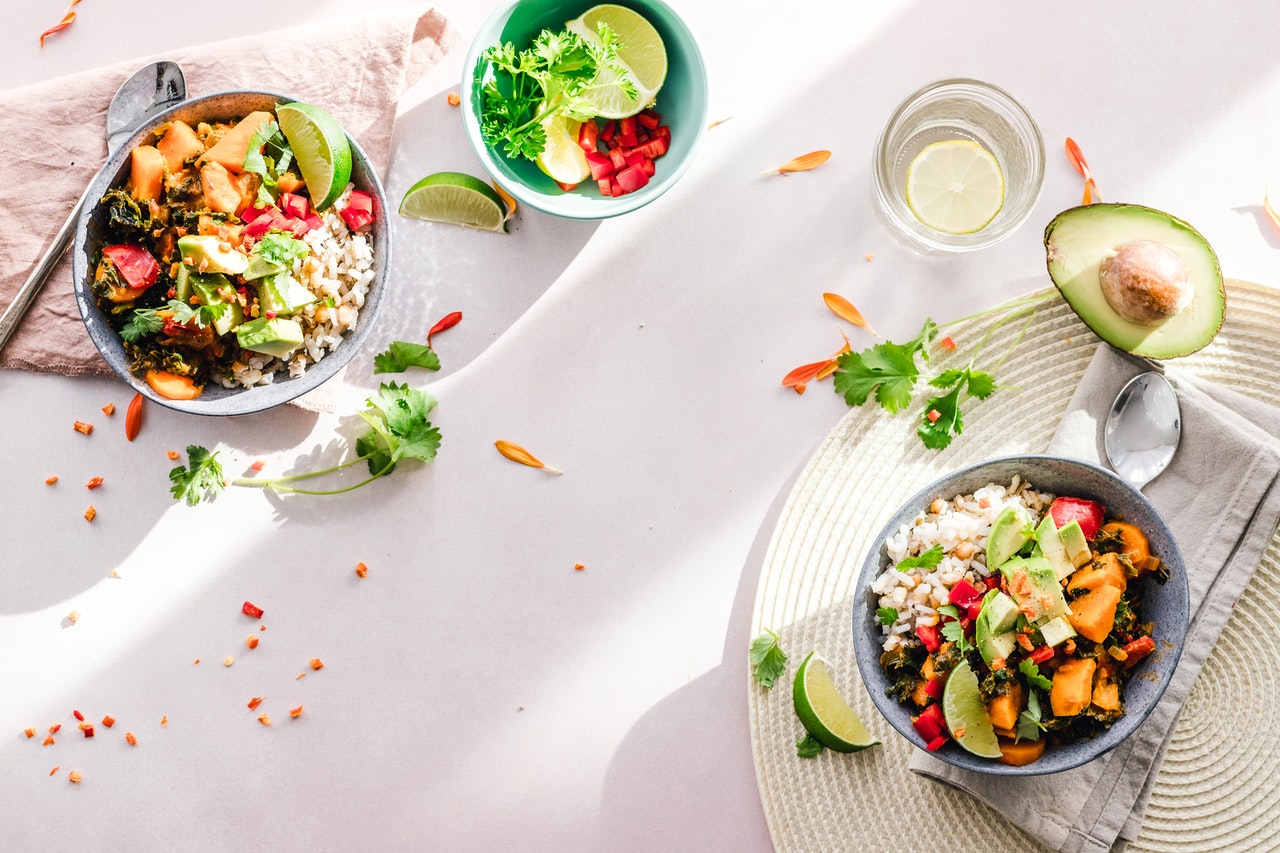 As we get used to staying at home, people are becoming more passionate about cooking than ever before. A recent 'state of the nation's plate' survey reporting that 44% of people are enjoying cooking more in recent times – one positive to draw from lockdown!
There's no doubt that convenience foods are an easy go-to when you're trying to limit your supermarket visits but, with more time to spend on perfecting your lunch, getting creative in the kitchen could be a great way to spark a passion and keep your motivation flowing.
Putting a little thought into your diet can help with your studies too. A recent article by the BBC suggests that a balance of slow-releasing carbohydrates, protein and Omega-3 fats contribute towards better exam performance.
If you're feeling inspired, we've put together a mix of our favourite easy lockdown lunches to get you going. Check them out – and don't forget to share your favourites with us on social!
1. The Healthy Lunch – Mediterranean Grilled Chicken Salad
Packed with healthy vegetables and protein, this creative twist on a classic salad is the perfect light lunch for warmer days. Filled with avocado, cucumbers and tomatoes, bring some colour to your plate with this flawless summer-time dish.
Prep time: 10 mins | Total time: 30 mins
Ingredients: 2 boneless skinless chicken breasts, 1 tsp. ground coriander, 1 tsp. dried oregano, Salt, Freshly ground black pepper, 5 tbsp. extra-virgin olive oil, 4 tbsp. red wine vinegar, 1 tbsp. freshly chopped parsley, 4 lettuce, chopped, 3 Persian cucumbers, thinly sliced, 200 g cherry tomatoes (halved), 2 avocados (sliced), 115 g feta (crumbled), 100 g pitted Kalamata olives (halved)
Directions
1. Heat grill to medium-high. Season chicken with coriander, oregano, salt, and pepper. Grill, covered, turning halfway through, until golden and no longer pink, 18 to 22 minutes. Let rest 5 minutes, then slice.
2. Meanwhile, make dressing. Whisk olive oil, red wine vinegar, and parsley in a small bowl and season with salt and pepper.
3. Divide lettuce, cucumbers, tomatoes, avocado, feta, and olives among four serving bowls. Top with sliced chicken, then drizzle with dressing.
2. For Comfort – One Pan Omelette
Ideal for those much needed comfort days, this classic easy recipe is the picture-perfect way to use up your leftovers and create a plate of perfection. This recipe really can be whatever you make of it. Invent your own fillings, change it up and get resourceful.
Prep time: 2 mins | Total time: 7 mins
Ingredients: 2 large eggs, 2 Tbsp. water, 1/8 tsp. salt, a dash of pepper, 1 tsp. butter, 1/3 cup filling (such as shredded cheese), finely chopped ham (or any other leftover meat you may have to hand)
Directions:
1. Beat eggs, water, salt and pepper in small bowl until blended.
2. Heat butter in 6 to 8-inch non-stick omelette pan or skillet over medium-high heat until hot. Tilt pan to coat bottom. Pour egg mixture into pan. Mixture should set immediately at edges.
3. Gently push cooked portions from edges toward the centre with inverted turner so that uncooked eggs can reach the hot pan surface. Continue cooking, tilting pan and gently moving cooked portions as needed.
4. When top surface of eggs is thickened and no visible liquid egg remains, Place filling on one side of the omelette. Fold omelette in half with turner. With a quick flip of the wrist, turn pan and invert or slide omelette onto plate. Serve immediately.
3. The Lazy Lunch – Scrambled Egg on Toast with Smoked Salmon
Nothing beats a slice of toast – the perfect food when you have a challenging day ahead! But, a simple lunch doesn't have to be a boring one. Why not spice up your lunchtime go-to with a few small changes for a quick and yummy alternative.
Prep time: 10 mins | Total time: 30 mins
Ingredients: 1 tbsp butter (plus extra for spreading), 2 large free-range eggs, 1 tbsp milk, 1 slice wholemeal bread, toasted, 2 slices smoked salmon, salt, freshly ground black pepper
Directions:
1. For the scrambled eggs, melt the butter in a saucepan over a low heat.
2. Add in the eggs, stirring constantly. Cook the scrambled eggs slowly to make sure they stay creamy – no less than 5 minutes. Once thick add the milk. Remove from the heat and season with salt and pepper.
3. To serve, put the slice of toast in the middle of the plate. Spoon over the scrambled eggs, place the smoked salmon on top and season with lots of black pepper.
However you decide to reinvent your lockdown lunches, remember that reigniting your passion for food is a great way to stay motivated. Routine is more important than ever before and a series of small daily successes could make all the difference to your studies!